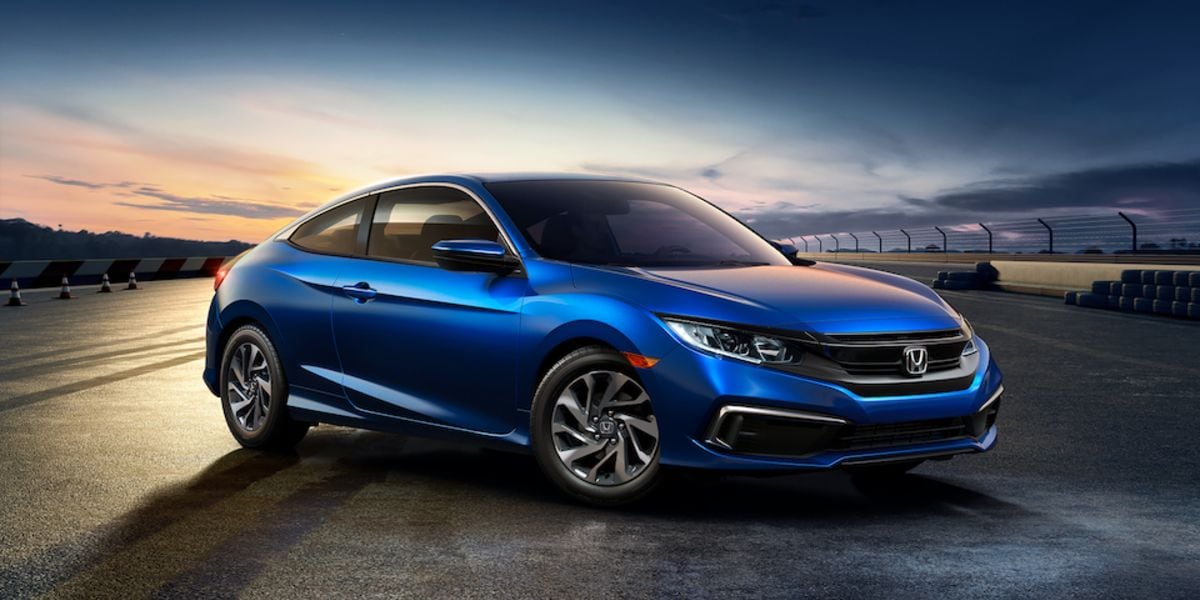 Buy or Lease the New 2021 Honda Civic
Do you want a reliable, sporty sedan whose reputation speaks for itself? The brand-new 2021 Honda Civic is the car for you. Check out why Honda of Downtown Los Angeles endorses the 2021 Honda Civic as our favorite compact sedan on the market today.
Variety, the Honda Way
At Honda of Downtown Los Angeles, we know that it can be frustrating when your options are limited, especially when you're trying to buy your next car. That's why the 2021 Honda Civic comes with a total of five unique trims with their own configurations to fit your lifestyle. Here's a quick look at these trims and how they can benefit you:
2021 Honda Civic LX: This is the economic model that we know our customers are going to love. With almost all the safety features that come installed with the other trims, the 2021 Honda Civic LX will get you where you need to go while impressing you with the money you're saving. Among other features, this sedan also has the standard Multi-Angle Rearview Camera with guidelines to help you back into those pesky parking spots.
 
2021 Honda Civic Sport: Here's one of the new 2021 Honda Civic models that's designed for people who need to get where they're going without delay. The 2021 Honda Civic Sport is an athletic model that combines swiftness and safety. This model is perfect for those who want to feel like they're in a racecar without breaking the bank. That's accomplished with the inclusion of the fun-to-use paddle shifters to complement the transmission. The 2021 Honda Civic Sport also comes equipped with most of the safety features that are standard with the other 2021 Honda Civic trims, so you can drive to your destinations worry-free.
 
2021 Honda Civic EX: Let's talk about luxury now. With the 2021 Honda Civic EX, you'll feel great with the heated front leather seats. You can also get a great view of the night sky using the One-Touch Power Moonroof. You won't just be driving in style, though. You'll also be at ease with a ton of safety features, including Honda LaneWatch technology.
 
2021 Honda Civic EX-L: Like the previous model but want a little cherry on top? The 2021 Honda Civic EX-L is the car for you. With all those luxurious features plus some others - like comfortable leather-trimmed, heated front seats - you'll feel as if you're riding down the street in a limousine.
 
2021 Honda Civic Touring: If you've read the descriptions of the other four models and are wanting all of their best features wrapped into one sedan, then the 2021 Honda Civic Touring is the car for you. With all the state-of-the-art safety, luxury, and athletic features that you should expect from a modern Honda, the 2021 Honda Civic Touring is the best bang for your buck. There are also some more added features to this model, including heated rear seats and a premium audio system.
This is a good overview of the five 2021 Honda Civic trims that you can choose from, but you can learn more about them and what we have to offer by giving us a call or visiting our lot.
Welcome To the 21st Century
We are so excited about the modern amenities lining the various 2021 Honda Civic trims that we couldn't help but go into some more detail. Let's take a look at a couple of the Honda Sensing Safety & Driver-Assistive Technologies that you'll find in your new 2021 Honda Civic model.
Of the high-tech features that the 2021 Honda Civic uses, our favorites are the ones that keep you safe on the highway. The most useful of these are the Lane Keep Assist System and Lane Departure Warning
The Lane Keep Assist System will make sure that you won't drift out of your lane by applying some mild steering torque, provided that lane markings are clear. The Lane Departure Warning feature alerts you when you're drifting out of your lane without turning on a turn signal. This will either let you know to activate your turn signal to alert other drivers or tell you that you're leaving your lane unintentionally.
Ready To Learn More?
We're excited to tell you more about our favorite features in all the 2021 Honda Civic models! Find out which model works best for you and our team can help you reach a great deal. Call us now or stop by next time you're in Downtown Los Angeles.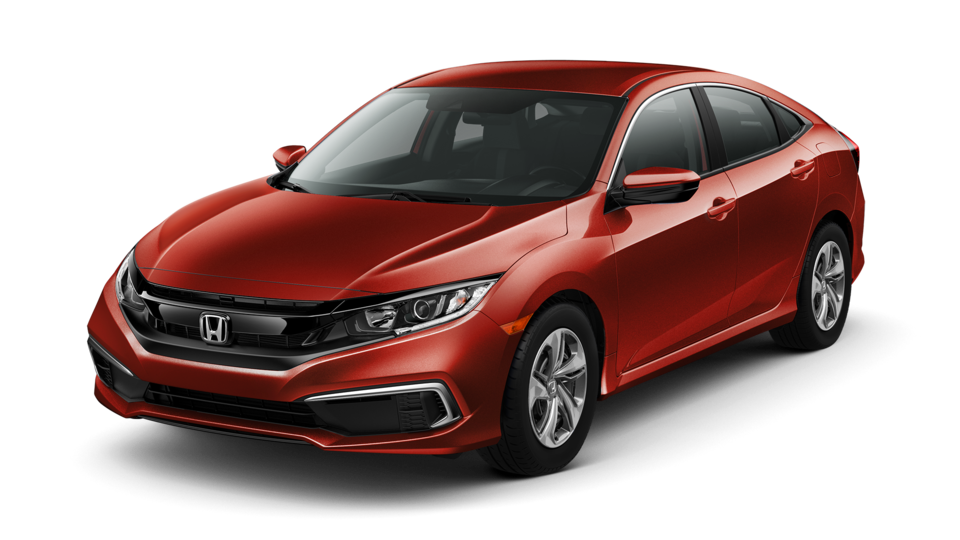 Make an Inquiry
The Honda Civic Comes in Five Trim Levels of Pure Excellence
Once you decide on a Honda Civic in Los Angeles, you just need to pick the trim level that is best for you. The Honda Civic comes in an array of five trim levels, from the basic LX to the premium Touring package. Along the way, the Honda Civic comes in Sport, EX and EX-L trim packages. Each one is distinctive and builds on the features of the last.
Honda Civic LX: Quality and Efficiency in a Simple Package
The LX comes standard with Honda's 158-horsepower, 2.0-liter engine. This engine gets great fuel economy whether you are in the sedan model equipped with the manual transmission or the hatchback with the CVT.
Honda Civic Sport: Connectivity and Performance
The Honda Civic Sport adds Apple CarPlay and Android Auto integration, 18-inch alloy wheels, and a multi-angle rearview camera. It also comes standard with the 158-horsepower, 2.0-liter engine.
Honda Civic EX: A Touch of Comfort
The Honda Civic EX adds an element of comfort to the Sport package with heated front seats and a power moonroof.
The Honda Civic EX introduces the Honda LaneWatch traffic monitoring and display system.
The Honda Civic EX also gets an engine upgrade to a turbocharged 174-horsepower power plant.
Honda Civic EX-L: Upgrading Comfort and Technology
The Honda Civic EX-L follows the previous trim in most respects but adds a leather interior trim. The Honda Civic EX-L also comes with:
The Honda HomeLink Remote System which connects your Honda Civic with home devices like your garage door and gate openers.
The Honda Civic EX-L also offers an automatic-dimming rearview mirror.
Honda Civic Sport: Civic Efficiency with a Luxury Edge
The Honda Civic Sport takes the all of the features from the previous trim levels and adds touches like a 450-watt premium audio system, LED headlights and Honda's Satellite-Linked Navigation System.
It keeps the 174-horsepower turbocharged engine and rates highly in fuel efficiency no matter where you drive in Los Angeles.
One Thing All Trim Levels Have in Common - Safety
Honda's commitment to safety crosses all levels of trim. Honda's Sensing Safety and Driver-Assistive technology packages come standard equipment on all five of the Honda Civic's trim levels.
With features like adaptive cruise control, forward collision warning, and collision mitigation braking system, you get Honda's best safety package no matter which trim level you choose.
Which Civic trim package is best for you? Stop by Honda of Downtown Los Angeles, take a test drive and decide for yourself.
Explore the Honda Civic Lineup at Honda of Downtown Los Angeles near Culver City
When you're looking for a compact sedan that can handle a variety of situations, we have the perfect solution at our Honda dealership near Inglewood: the Honda Civic. Honda has been well-known for a doing a lot of different things well and the Honda Civic continues the trend with a responsive engine package, cozy interior and plenty of modern technology and safety features to explore.
At our Honda dealership in Los Angeles, we offer an impressive selection of new Honda Civic inventory for you to browse through and choose out the trim configuration that makes you the happiest. Whether you're looking for a Honda Civic lease or you want to finance the purchase of your new Civic near Glendale, CA, we're happy to assist you in your every need. Swing by our dealership and you can explore the downtown Los Angeles area with trips to the Natural History Museum or the Exposition Park Rose Garden, all conveniently located close to Interstate 110. We look forward to putting you at the wheel of a Honda Civic and helping you test drive it today!