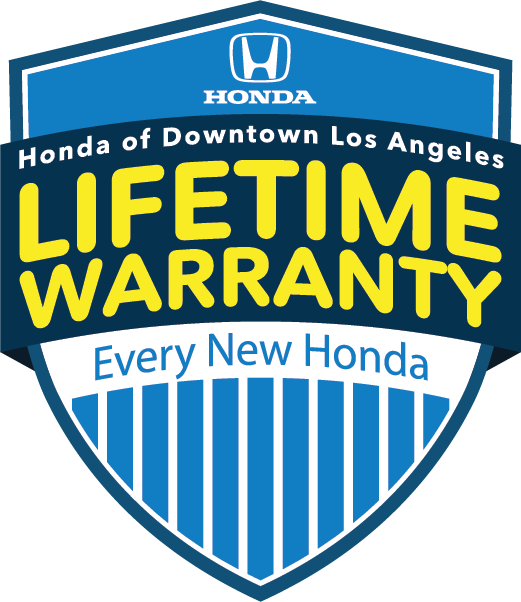 At Honda of Downtown Los Angeles, you are our top priority! We understand buying a brand-new vehicle can be exciting, but for some it can also be intimidating. That's why we offer a Lifetime Warranty on every new Honda at no additional cost. Anything we can do to give you peace of mind during the car buying process is a mentality we can get behind. 
Frequently Asked Questions
Which Vehicles Come With The Lifetime Warranty?
The Lifetime Warranty applies to all new Honda vehicles.
Is There Any Extra Maintenance Required To Maintain The Warranty?
No, you must simply follow the manufacturer's required maintenance schedules as referred to in the owner's manual. 
Where Am I Covered By The Lifetime Warranty?
The Lifetime Warranty is good anywhere in the USA or Canada. 
How Much Will It Cost?
Absolutely nothing. We're trying to build "Customers For Life" so the Lifetime Warranty comes standard with every qualifying vehicle meeting the criteria above and is included at no extra charge. 
Can I Get The Lifetime Warranty At Another Dealer In The Area? 
No. Our dealership has been chosen as the select dealership in the area to offer this Lifetime Warranty. 
Do I Have To Have All Of My Service Completed At Your Dealership?
Good question! Though our highly-trained service technicians will exceed your expectations, you are not required to come here. To keep the Warranty in force, you must perform all of the manufacturer's required maintenance and keep the records. It really is that easy! Please note that when you service with us, we will maintain all of those records for you. 
What's Covered Under The Lifetime Warranty?*
The components covered will be the exact same as the Factory "Powertrain" Warranty and including:
Engine: Cylinder block & head & all internal parts, Pistons, Connecting rods, Crankshaft, Intake Manifold, Timing gears & gaskets, Timing chain/belt & cover, Flywheel, Valve covers, Oil pan, Oil pump, Turbocharger housing & all internal parts, Superchargers housing & all internal parts, Water pump, Seals, & gaskets. 
Transmission & Transaxle: Case & all internal parts, Planetary gear set, Valve body, Torque converter, Clutch cover, Transfer case & all internal parts, Seals & gaskets. 
Front Wheel Drive System: Final drive housing & internal parts, Limited slip
Rear Wheel Drive System: Axle housing & internal parts, Ring & pinion, Limited slip differential, Propeller shaft, U-joints, Axle shaft, & Drive shaft
Shop With Us Today! 
Do you like what you see? There are numerous reasons why drivers choose us and our Lifetime Warranty is one of them. Plus, if you prefer to shop from the comfort of your own home, you can easily shop & sign from anywhere - while still getting your well-deserved Lifetime Warranty with your purchase. If you have any questions about our Lifetime Warranty, please don't hesitate to
contact us through our website
or by phone at
(213) 234-2144
.
Hours
Monday

7:00 AM - 9:00 PM

Tuesday

7:00 AM - 9:00 PM

Wednesday

7:00 AM - 9:00 PM

Thursday

7:00 AM - 9:00 PM

Friday

7:00 AM - 9:00 PM

Saturday

7:00 AM - 9:00 PM

Sunday

9:00 AM - 9:00 PM
Make an Inquiry
* Indicates a required field